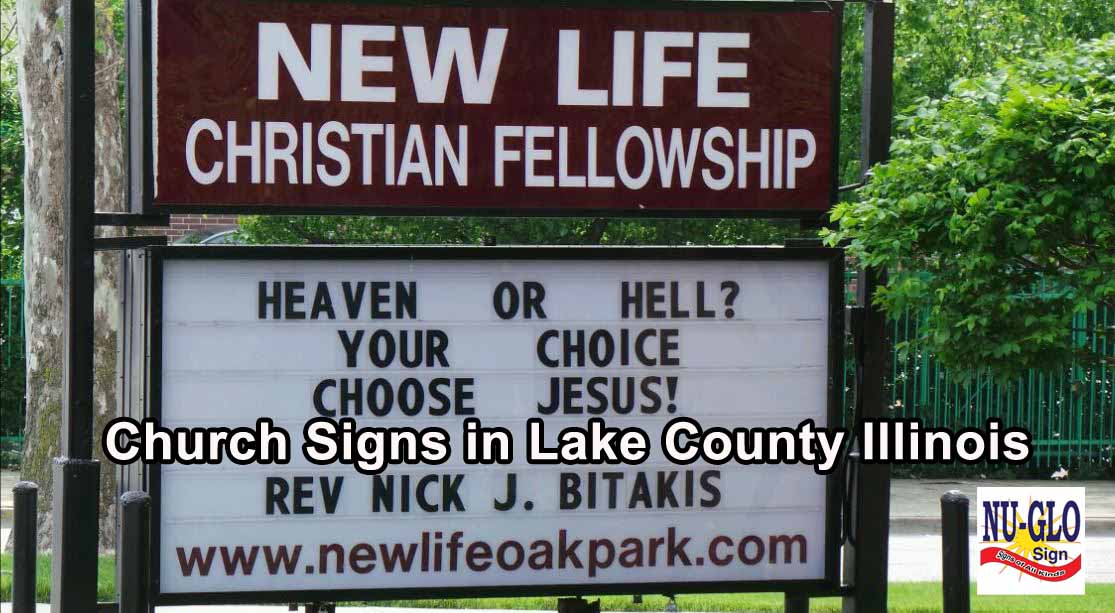 Church Signs in Lake County IL, McHenry County and Kenosha County – For nearly 40 years, Nu Glo Signs puts your sign to work for you.
Church Signs in Lake County IL
Our affordable church signs provide the essential means of communication with your existing church members, potential members and the community. We have an impressive list of denominational organizations we have done work for.
At Nu Glo, our unique sign fabrication technology and focused processes allow us to fabricate designs that most other sign companies often struggle with. Our technological know-how and sign making skill ensures that there is no limit on your sign design. You can expect flawless execution from design, project management and through installation.
Let Nu Glo design you a unique and beautiful sign that tells the community exactly who you are.
Church Signs – Lake County – Fast Sign Repair
Sometimes lights burn out, ballasts bite the dust, a a bad thunderstorm damages the sign.
As a full-service, family-owned sign company we provide repair and maintenance services on all types signs including, Pylons, Monument Signs, Neon Signs, Wall Signs, Message Centers, Box and Cabinet Signs, Channel Letter Signs and more.  We can also service parking lot lighting.  Our well-qualified technicians and electricians are ready to provide the services needed for you sign to work properly.
When your sign is not working, people are left in the dark. Nu Glo Sign is here to light their way with fast, affordable sign service throughout Lake County.  We serve all of Northern Illinois and Southern Wisconsin.
Why Church Signs From Nu Glo Sign?
Churches pay an important role in our communities. as such, they require affordable, quality signage that gets the message across to congregation members as well as prospective members.
Church signs are an essential element that provides greater awareness of your organization.
Nu Glo fabricates cost-effective church signs in Northern Illinois and Southern Wisconsin that have stood the test of time. The sign pictured above is over 10 years old.
Also. Nu Glo Offers Parking Lot and Walkway Lighting adding more safety to your outdoor lighting!
Whether you are in need of a new sign, or your sign needs some tender-loving repair, call the signage experts in Lake County Illinois – Nu Glo.
Office 847-223-6160
Cell 847-417-2342