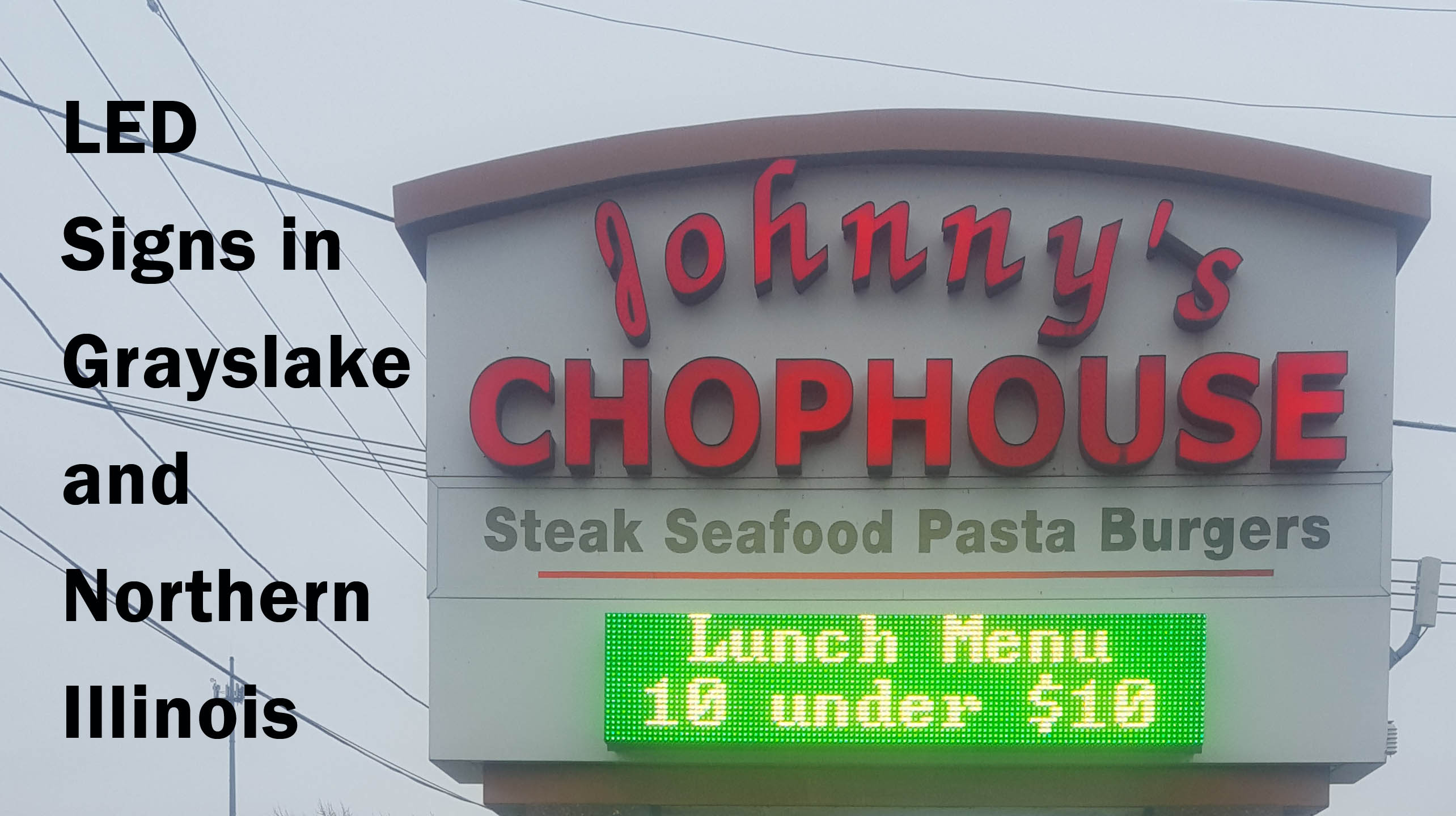 Moving message and LED signs in Greyslake, Northern Illinois and Southern Wisconsin – For over 35 years, Nu Glo Signs – Affordable, Professional Signs.
LED Signs in Grayslake and Northern Illinois
Nu Glo Signs offers many different types of LED signage. From small electronic message center signs to billboard-sized displays, stand alone or integrated with other types of signage, the one thing they all have in common is money saving low energy consumption as well as extraordinary eye-catching appeal.
And LED components can be integrated into the sign cabinet or in a separate box. LED signage is very adaptable. But most often, LED's are becoming a common component of successful signage, because it's so much easier to change the message!
LED Signs in Grayslake and Northern Illinois / Southern Wisconsin
If you need signs in Lake County Illinois, contact the Commercial Signage Experts at Nu Glo Sign. From business signs to event signage, interior signs and more, Nu Glo custom fabricates all types of business signs in Lake County Illinois and the surrounding northern Illinois area.
Dimensional Lettering
LED
Channel
Front Lit 
Back Lit
Light Box
Neon
Illuminated Pole Signs
Monument Signs
Electronic LED Messages
Panel Signs
Vinyl Banner
Installation/Repair/Maintenance
And here at Nu Glo Signs, our graphics expertise will bring your visual communications to life. With extensive design experience and utilizing state-of-the-art technology, Nu Glo creates effective, affordable signage that has impact.
We have been creating, maintaining, and repairing signs all around Lake County and the surrounding area for over 35 years, so we've learned a thing or two about creating effective business signage. When you need professional, quick and affordable sign fabrication or service look no further.
High Quality Signs – Exceptional Sign Service and Repair – Decades of Knowledge
Down-to-Earth Pricing
Here at Nu-Glo Sign, we have been helping businesses succeed through exceptional signage since 1982.
We manufacture, install, and service the best signs in Grayslake, Lake County Illinois, Northern Illinois and Southern Wisconsin.
Office 847-223-6160
Cell 847-417-2342